Santa Fe Clay Presents: La Mesa
Santa Fe Clay Presents: La Mesa, a National Invitational Dinnerware Exhibition of 150 place settings in a spectacular banquet table display by some of the country's foremost ceramic artists and potters.
This exhibit is an annual event held in conjunction with the National Council on Education for Ceramic Arts Conference. Join us for our Mad Hatter style dinner party March 20 – 23. Artwork will only be sold in person at La Mesa in Houston during the times listed below.
Due to the nature of this four-day pop-up show, we are unable to put this dinnerware exhibition online for sale. We see the artwork for the first time ourselves when we unpack and install the display at the hotel!
We do, however, have a beautiful boxed set of Santa Fe La Mesa 2010 postcards for sale in our store.
This 150 card set represents each artist's work from the exhibit as presented in the Santa Fe Clay Gallery in December of 2010 for $40.
Please call 505-984-1122 to purchase.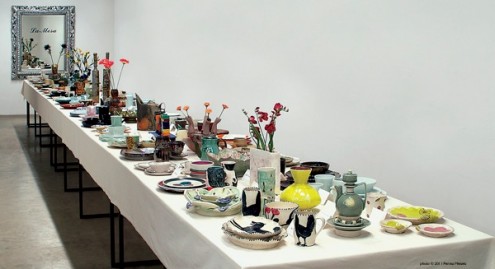 Leave a reply
Fields marked with * are required